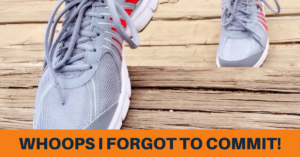 Joy McClymont is a fitness trainer at Joy's Fitness Hub and owner at Off the Track training. She took out her time to talk our team about how life events can affect commitments and defined a plan to prevent that from happening
We all have targets and to achieve them we need to see several commitments through. These commitments act as stepping stones towards our goals. We usually make a commitment in the heat of the moment and once that excitement dies down, life happens.
There comes one hurdle or another that distracts us from the big picture. We get involved in tackling the curveball life has thrown at us and lose all the motivation required to persevere. Common reasons for backing out of commitments are injuries, illnesses, criticism or lack of self-confidence.
The answer Joy gives to this dilemma is fairly simple. You just have to toughen up and accept that obstacles are a part of life. If it weren't so life would be very boring and uneventful. The key to staying focused is not letting the small things in life sidetrack you from the path you have set out on. Whether it is a health-related issue or fear of failure, one should just power through the difficult times. Another factor which affects a person's ability to commit is impatience. Most commitments are long-term and require a significant investment of time to actually produce results that are worthwhile.
Joy has defined a 5-action plan for those who have trouble keeping their commitments and find one excuse or another to back out.
Action 1: Make a commitment that is 100% achievable
The key here is to commit to a task that takes you closer to your goal and can be achievable no matter what. For example, if someone commits to drinking two litres of water everyday then that is a 100% achievable task which will be favourable for their health.
Action 2: Plan to do the bare minimum
You have to set a task for yourself which involves the bare minimum but also abides by your commitment. The task can be repeated daily, weekly or monthly in order to achieve the target.
Action 3: Small steps lead to big leaps
It is important to note that real progress takes a lot of time. It is the accumulated result of weeks, months or even years of commitment. To expect miracles to happen overnight is ridiculous which is why patience is the most important facet of a commitment.
Action 4: Do not give up hope
Action 4 emphasises on the third action and advises people to not give up. It is easy to get frustrated and lose motivation when you do not see any physical results but the key to surviving is not letting self-doubt affect your actions.
Action 5: Find a support system
It is important to have someone who is there to get you back on track when you have given up hope. It could be in the form of a friend or even a group of like-minded people who can work with you towards a common goal.
So, if you have a goal you are working towards do not put it off and start right now. Make a mental note and promise to begin with a clean slate tomorrow and not back out of the commitment no matter what.