Joy McClymont
Founder and Australia's 'Aussie Get Fit Chick'
"You know what I want … I want people who live and feel like the minority to be a part of a program where they live and feel like the majority.
I want people to feel empowered to determine their own health, fitness and way of life.
I believe that any physical achievement is possible no matter where you live or what your beginning fitness level is. I don't believe in striving to achieve somebody else's body type, I believe in striving to achieve the best version of your own body and behaviour. I believe that together food and exercise can change how you face life every day of every year!" (Joy McClymont)
As owner and founder of 'Off The Track Training' and a mother of four young children, Joy has managed to consistently maintain a health and fitness regime that has seen her complete triathlons, long distance swimming, running and cycling events, as well as bounce back after each baby with core strength intact. Living hours from a shop, gym or bitumen road has inspired Joy to innovate health and fitness in a new way – utilising our natural environment and what we have available around us.  
As a fully qualified personal trainer and natural motivator, Joy brings to you a sense of possible amongst what we sometimes feel like is the impossible. Admired for her down to earth Aussie style and recognised nationally for her ability to provide simple solutions for health and fitness for those who don't have access to gyms, high tech equipment or personal trainers – Joy is attracting global attention.  
As a client, you will have direct access to Joy via her live online programs and tele-seminars as well as through other private social media links. Joy maintains a personal interest in every single one of her clients, making sure that you have all the information, encouragement, support and tools you need to ensure long term health and fitness success.   
Some of Joy's Qualifications and Achievements include:
Queensland Fitness Australia #ActiveAchiever 2016

Half and Ironman Triathlete – France, Australia, Hawaii

Half Marathon Running Events

Primary School Teacher/Principal – B.Arts (Geography/Sociology), Dip.Education – Primary

Cert III & IV Personal Trainer

RCS Executive Link Graduate

Swimming Coach

Level 1 Triathlon Coach

Endurance mountain bike riding

Endurance trekking
Learn more about Joy and her family:  Meet the McClymonts
Access Joy's Speaking Bio Here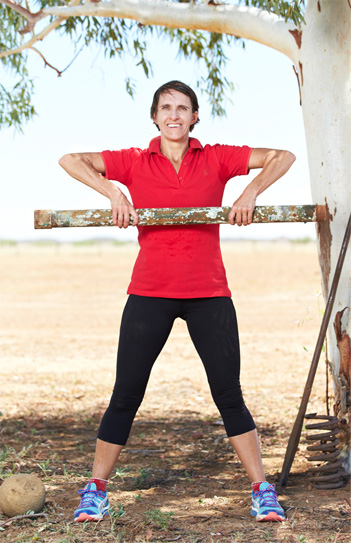 Stacey Curcio
BHSc N.D – Naturopath

Stacey holds a Bachelor of Health Science majoring in Naturopathy, Herbal Medicine and Nutritional Medicine completed through Endeavour College of Natural Health. I also hold a Masters of Human Nutrition which was completed through Deakin University. During her studies, she was honoured to be the recipient of several scholarships. Stacey has also been a contributing author to a well-known evidence-based herbal and nutritional textbook.
A few words from Stacey:
"I was born in Darwin and raised in central Queensland. After school, I kept my inner gypsy very happy by travelling around and exploring the world before settling in Melbourne to study. After graduating in 2011, my husband and I moved back to sunny Queensland where I owned and operated a successful multi-modality wellness clinic, Gladstone Holistic Health; and in late 2015, I became a Mum (my proudest achievement yet!) and started a new business, Cultivating Wellness.
As a practicing Naturopath, Nutritionist and Herbalist; I enjoy the challenges of clinical practice and take clients Australia wide. I regularly host workshops; have been lucky enough to be invited to speak at many local and regional events; and have done numerous segments on ABC radio (Western Queensland). My work with Off the Track Training is a big part of what I do, and I absolutely love sharing my interests, knowledge and passion with the Hubbers!
I really am in awe of the human body and our capacity to both heal and grow. I am also endlessly amazed by our biochemistry and the way in which we respond to our environment, the food we eat and the emotions we experience. My philosophy around Nutrition and Natural Medicine is based on current knowledge, traditional wisdom and above all else, common sense!"
Website. www.cultivatingwellness.com.au