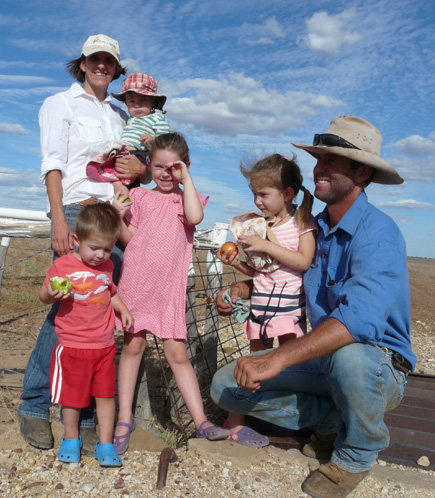 96 years ago, the McClymonts bravely moved their family and passion for agriculture from their home in Warialda, New South Wales to an unknown block of land 100km west of Longreach. From a property that had no house, watering system, fences or any other type of infrastructure, the McClymonts established Dalkeith Station.
Dalkeith is an 80 000 acre property of mixed mitchell grass downs country and gidgee, lancewood, spinifex country. This varying country type makes it suitable for running both sheep and cattle. The McClymonts manage their landscape using sustainable management practices which ensure that their operation is in line with the climatic conditions and native environment. They monitor the impact on the environment and adjust their stocking rate accordingly.
Dalkeith Station is now managed by a partnership between the 3rd and 4th generations of McClymonts. Mac & Di (3rd generation) returned to Dalkeith after pursuing study and other careers in aircraft maintenance and teaching 1976. Paul & Joy McClymont (4th generation) started working within the partnership in 2006 and are now raising their four children there. During this time, Paul and Joy have participated in a wide range of education that has enabled them to progress their sheep and cattle business and improve their land management strategies.
The McClymonts have a real diversity of interests and skills within their partnership and have pursued other careers outside of agriculture over the years. Mac is a fully qualified Aircraft Engineer that operates a maintenance business on Dalkeith. Di is a trained Early Childhood teacher and has also raised her four children via distance education. Paul has a Diploma in Animal Production and has worked extensively on a wide variety of properties in Queensland and the Northern Territory and Joy is a qualified Primary/Secondary Teacher with a Cert IV in Personal Training and who is now operating a successful health and fitness organisation – 'Off the Track Training', from the property.
The McClymont family is passionate about the agricultural industry and believes that everyone needs to experience how food and fibre is produced in Australia. They share this passion with people who don't have the opportunity to experience the industry in action. Part of that purpose is to educate and connect the wider community in relation to what life on a family owned, sheep & cattle station is like.
As a family owned and operated pastoral station it is not without its challenges, however, to produce quality food and fibre is and will always remain a passion for the McClymont family.
This rural Aussie landscape and traditional commodity business, combined with strong family and community values has been the perfect backdrop for Joy to envision 'Off the Track Training'. Starting out in an effort to support and inspire others to achieve their health and fitness goals in rural and/or isolated areas, Joy is now able to provide access to her programs from anywhere in the world.
Check out the programs.