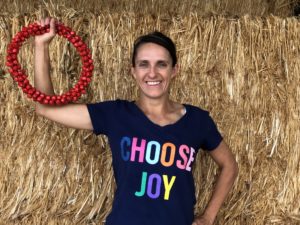 I must admit I'm a tad boring these days with New Year celebrations.
Instead of staying up late, laughing and celebrating with friends, my husband and I really live life on the edge and swap sides of the bed each NY eve.
Serious party animals!!!
Regardless of this very steady NY eve, I really do get seriously excited about a New Year rolling on. I love being able to crack open that brand new blank diary, planner, goals book and start afresh with my dreams, ideas, trips and plans. It's the clean slate we all need to really evaluate where we're at and what we want for ourselves and our life.
Thinking about our hopes, dreams and ideas gives me butterflies but we all know that just thinking about them is not enough to make them happen. Commonly we make these NY resolutions with the best intentions. We are creating them from the heart and so desperately want them to become a reality. BUT life happens!
Typically speaking many people start well but sadly do not maintain this enthusiasm and unfortunately end up being sucked back into old habits and the vicious cycle of putting ourselves and our dreams at the bottom of the washing pile.
So I've set about helping us all to make our NY hopes and dreams a little more likely by creating a little action sheet that will help us tick those NY boxes and feel darn good for it.
#1 Ask yourself these questions and write down your responses without any filter or negative thoughts.
What do I really want for myself? (no more than 3)
#2 Take those 3 wants and turn them into actions. Identify one action for each want.
Ask yourself …..
What is one action that I can do daily for the first 30 days of January that will help me progress? Just 1!!
#3 Take out your diary/ calendar/planner and lock in the days and times that you will do this action. Be accountable to your calendar – if it's there, lock it in and get it done
Be prepared!
Other things will pop up, life will try and railroad you, your negative self-talk will convince you that it's not important. Be stronger than these distractions!
I believe in being flexible but committed.
This means that we allow ourselves to prioritise according to life's demands but we stay true to our commitment.
Don't fall into the trap of being so rigid with your commitment that you completely fall off the rails if it doesn't go exactly to plan e.g. you sleep in, you have a sore leg, you get asked to do a job, you have a sick child etc…. It is always possible to do something small but significant towards your goals each day.
Once you've got your actions identified then it's a matter of DOING THE WORK!
This is the part that will test your mental strength, commitment, patience and positive mindset.
Achieving, improving or changing anything in your life is a tough gig. There is no doubt about that! We often feel we fail at this more than succeed, which is why success is so commendable and rare.
So how do you do the work and become a success story?
Here are the 8 most valuable elements to making your NY dreams a reality and not just words on a scrap piece of paper that you threw out in February with the last of the Christmas ham.
Mental strength: Be mentally strong, don't be soft on this, stay focused and remind yourself of how much you deserve to succeed.
Commitment: Set your plan, take action and commit to making it happen
Patience: Be patient with progress and give yourself time to meet your expectations
Belief: Believe in the possibility and never let your self-doubt dominate
Perfectly imperfect: If you strive for perfectionism it can often paralyse you from progress. Be perfectly imperfect, roll with the punches and do something.
Negative self-talk strategy: Get ready for the negative self-talk that will try and dominate. What's your action plan to meet this head on and turn it around.
Support: You'll need it – we all do! Don't be precious about asking for help. None of us getting very far fighting our challenges individually. Reach out for help, it will mean a lot to you and them.
See the possibilities beyond the impossible! Don't get railroaded by injuries, illnesses, extra commitments, negative talk. Stay true to what's important to you and find what is possible.
Absorb that!
Think about which elements are the most important to you.
Which ones do you know of that have been your undoing in the past?
What will you do to tackle them in the NY?
Now there's just one thing to do ……… GET IT DONE!!
ACCESS BONUSES
All the best cool cats and here's to a fresh look at a brand new year and one that you will grab with both hands.