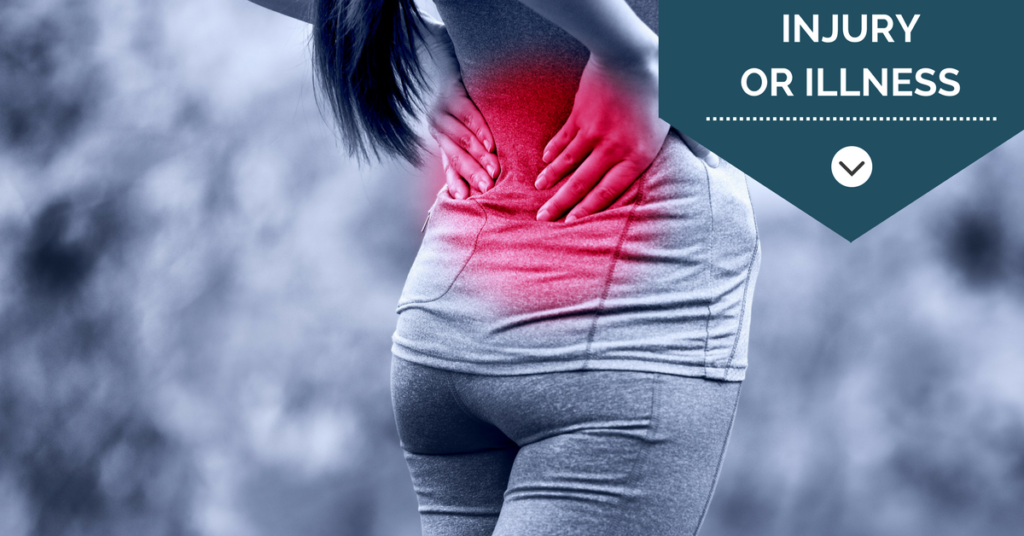 Acknowledge your injuries, take action to address them but don't let them define you.  
The fact that you have an injury is a red flag to say that you need to pay attention to how and why it happened and how you can actually reduce the risk of it happening again.  
Don't let your injury define your health and fitness.  
I commonly hear people say "oh I haven't been able to do anything because my knee has been so sore".  Anything!!  You mean nothing at all???  
Have we forgotten about the 600 other muscle groups, fitness components and joints that also need to move and can help us reduce the soreness in that knee.  For example, if you have a sore knee firstly take action to find out exactly what the problem is.  Not just a diagnosis of a sore knee, osteoarthritis or cartilage damage but also how and why it has eventuated.  Has it been caused by the way you walk, your stabilizing system, weak points in your muscles, postural issues, training overload, tight muscles.  Get to the bottom of the injury and work on alleviating it for good.  Ask the questions to your physio or health professional!  You need answers that will treat the issue but also the cause.  
Let's not forget that just because we have a sore knee it doesn't mean we can't perform upper body, core and even some lower body strength work.  I don't believe you need your knee to do a bench push up or plank.  Low impact cardio exercises like swimming, rowing, elliptical trainers and cycling are great options that can strengthen the knee but not put too much pressure on the joint.  
There is always something we can do!!
So here's an action list if you have an injury or illness:
#1  Acknowledge the injury / illness and book an appointment with a professional that will give you a thorough diagnosis (symptom and cause).
#2 Ask questions!  It's important to understand your injury/illness completely.  Ask why, how and what.  If they don't know or can't tell you then ask how you can find out.  It's your body!
#3 Write a list of what you can do.  Think about all the other muscle groups and ways of moving and make a list of the things you can do without causing more pain or damage.  
#4 Create your own "modified program".  Schedule the list of what you can do into your week.  Be flexible but committed about your modified program.  It's easy to just give up completely because you can't do what you normally do.  This attitude will not help your health and it will be even more damaging to your motivation.   
#5 Practise a positive mindset.  As soon as you feel useless, powerless or negative about your injury/illness then you'll inhibit yourself from seeing the possibilities and the positive side of what you are experiencing.  It's weird to think that there's a positive side but there is.  Every time I hit a set back I always remember the wise words of Oprah Winfrey – "When crisis comes, ask yourself what are you here to teach me?"