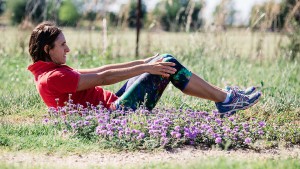 If you're a woman who has had a baby or two, then you would have no doubt heard all about the importance of keeping your pelvic floor muscles strong and active.  Why?  Because wetting your knickers when you cough, sneeze, run, jump, lift or push, is not NORMAL!  This issue of LBL (light bladder leakage, or heavy in some circumstances) is such a big issue that we now have the Continence Foundation of Australia, dedicated purely to promoting bladder and bowel health.  
Weak pelvic floor muscles don't just cause discomfort and awkwardness they also make it difficult for us to regain our physical fitness by putting limitations on how much we are able to lift, push, run and jump.  It's important to note that you shouldn't push through an LBL moment just because you have one more rep to go, another 2 minutes more or 5 more jumps.  This is where increased pelvic floor weakness occurs and makes the problem worse.  Instead, STOP, ENGAGE and GRADUALLY MOVE FROM THERE.
Some of the best advice I've received has been from a range of physios, doctors and nurses over the course of my child-bearing years (4 children later).  
My 5 best tips to tackle a "wee" little pelvic floor problem are outlined below:  
#1 Do it dots
Place red dots in various locations around your house.  When you see one, stop and complete 1 pelvic floor exercise
#2  Small squeezes often  
It's better to complete a few awesome pelvic floor squeezes instead of a tiring 20min + session that fatigues the muscles more and makes it difficult to engage properly.  
#3  Don't push through pelvic floor fatigue
If you feel your pelvic floor weakening, then stop what you are doing, engage and slowly continue from there.  
#4  Limit the coffee
Caffeine enhances the need to "wee" so it's best to avoid if you are having LBL.  
#5 Modify core exercises
It's extremely beneficial to have a strong core and your pelvic floor is a part of that.  Modifying your core exercises to benefit your pelvic floor muscles is important.  

Check out these

Pelvic Floor Safe Exercises

from

Pelvic Floor First

 
Remember:  Don't ignore your pelvic floor!!  
Joy McClymont
Cert IV Personal Trainer
Telstra Business Awards Finalist
Owner Off The Track Training