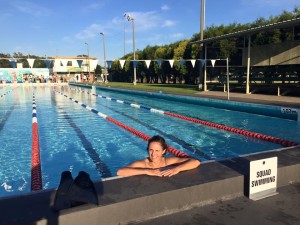 Bloody bikinis! Who would have thought they'd be associated with physical fitness and overall health. Let's not forget they are only about 50cm of material! If only it was tracksuits!! Then we'd have the 6 week Tracksuit Body Program which would be totally achievable for a lot more people. The bikini body image, in my opinion, has done more damage than good to our tragic health statistics.
I remember being in a place where I thought that the body I wanted and the fitness level I needed, was so far from my reach, that there was no point in starting. Clearly not a very productive way of thinking! However it's more common than I thought. With fitness opportunities, programs, ideas, apps and equipment right at our finger tips, why is it that people just don't start. Well I believe that for a large percentage of the population who badly need to improve their physical fitness, all these bikini models and extreme physiques associated with being fit is slamming the "unachievable" in their faces. When you are overweight, depressed, or suffering from an illness; the last thing you think is achievable and important is fitting into a bikini. And to be honest, anyone can wear a bikini if they want regardless of body shape. Some people may not believe that this is possible however as far as I know there's no "Bikini Brigade" going around arresting people that should have chosen the full piece.
So let me share with you some of my most significant beliefs in Joy's Fitness Hub, around being fit and healthy, which make a bigger difference in the success of people feeling fit, happy and healthy than any piece of material. Keep in mind though that all these BELIEFS underpin ACTION. Believing is just the beginning; you also need to follow it up with actions. Knowing what to eat, how to effectively exercise and keep a motivating mindset is absolutely critical to reaching your personal goals.
Belief #1: Flick the crap story!
Flood your mind with good stories and images about who you are and what you can achieve.
Belief #2: Something is always better than nothing.
Never underestimate the small daily something's amount to significant achievements.
Belief #3: Have patience with progress.
Keep at it and be patient with your progress. Be determined instead of impatient! The only person that can stop progress is you.
Belief #4: It ain't always gotta be hard!
Balancing your fitness sessions and spacing them out to allow for rest is so important for maintaining consistency. Avoid being like a bull at a gate and just take one day, step and squat at a time.
Belief #5: What am I doing this for again?
Know why you want to be healthy and fit and make sure it's for a truly valuable reason. Knowing this will keep you going when the tough get going.
Belief #6: Consider your reality.
Think about what your life is like and the reality of your situation ie your family, business, location, travel etc.. No matter what, there is always something you can do to be healthy and fit regardless of what your reality is. So don't wait for the silver bullet (eg. flash equipment, gym at your door step, housekeeper) to come along and change it. Seize the day and find the possibilities!
Health Assessment Quiz – Answer these 10 questions to see where you sit on the health wagon.
Start Quiz Now