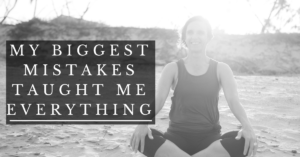 Do you remember what it was like when you were younger and how physical activity was just something you did. You may have had a fire in your belly and a desire to push hard, to try, to keep up, score that goal, win that race, get picked in that team. As we grow up our fire and desire about these same things dies off to a mild little flicker. I definitely lost mine somewhere on my "growing up" journey but I pretended I hadn't. For a large part of my life I have been very active, really fit and sometimes extreme, but for some of my life I've also been extremely unhealthy and actually bloody sad. I use to train and train, never miss a session, total 100% commitment but the reason why I was doing all that had completely changed. It wasn't about the fire in my belly anymore. The team spirit, the personal empowerment or the fun. It was more about what I saw myself as on the outside. Did I look like a fit person? Did other people see me as a fit person? Could I wear that short skirt? Was the mirror lying to me?
Being fit became a materialistic "body beautiful" desire, which turned something so innocently pleasurable into an ugly and uninspiring activity that messed up my whole "sporty" brain.
I became a guilt-ridden, malfunctioning human who predominantly thought crappy things about who I was and continuously cycled through overeating, under eating, over analysing, acne, excess weight, moodiness, excessive sleep, cravings and binge eating, just to name a few.
I'd be physically training so hard and eating nothing, then everything, in the hope to look better, fitter, skinnier, more attractive, anything else but how I looked right then.
These were my biggest mistakes but my greatest lessons!
I did everything wrong in the hope of living and looking healthy and fit. It took many years of learning, loving and living to truly understand where I went wrong.
I can't tell you how good it is to look back on those years as being behind me however they have been absolutely invaluable on my journey to helping people through some of the toughest challenges we all face, our self-image and body confidence.
We all can change and I can't tell you how free and fun life is once we learn to let go of the stuff that honestly ain't that important!!! In fact when this happens, you end up being exactly who you are meant to be!
Here's my warmest and most loving helping hand to you.
"The love for yourself is there, inside you, it's just buried underneath the last insult or bad experience you had.
Your body is the only place you truly have to live in.
Make it beautiful by starting on the inside."
Here's to loving ourselves sick!!!
Joy